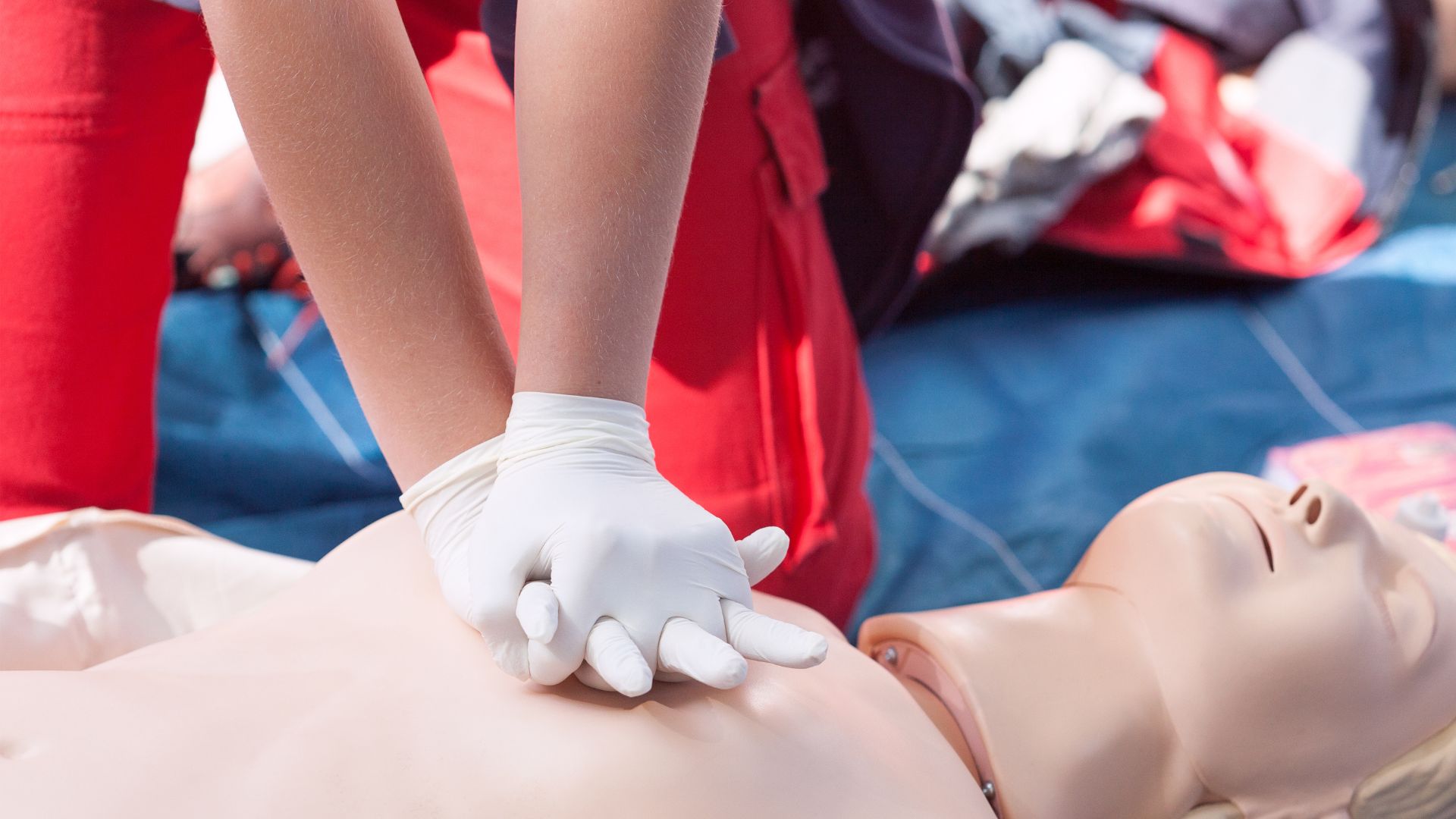 Performing Cardiopulmonary Resuscitation (CPR) is a skill that, in a given moment, can make a life's difference for someone in need. This is a skill that many people want to learn for humane reasons, for self-improvement, but also to comply with workplace regulations.;
Many job occupations throughout the country require CPR certification. A host of industries that need to adhere to OSHA requirements or recommendations look to hire people who are CPR certified: logging, electric, manufacturing, chiropractic, daycare, child care, camp supervisors, lifeguards, supervisors and managers, and so on.;
If you want to update your resume with a CPR certification card from a relevant association or your job requires it, you also may want to know, is CPR certification the same in every state? Knowing this is important for people working across state borders or planning to move to a different state.;
We are going to take up this question by looking at laws and regulations at the federal and state levels.;
CPR Certification: Between Federal Law and State Regulation
Although it may appear that considerations regarding the provision of CPR should be regulated at the federal level, the United States government leaves this matter to the states. Each state can decide whether or not CPR training should be mandatory in schools or the workplace of various occupations. Thereby, states also decide the requirements for CPR certification.;
CPR Certification in the US States
There are only a handful of US states where CPR classes are not mandatory in the public school system. California requires it for students who take health classes. Every other state makes CPR training a requirement. The above, however, is subject to change as legislators in an increasing number of states want to bring the training to the classroom.;
The state of New Jersey became the 19th to make giving CPR and using an AED a graduation requirement for high school students! When it comes to holding a formal CPR certification card, states require that these have to be issued by a licensed provider, like the American Heart Association or the American Red Cross.;
Occupations that are required to have CPR certifications vary from state to state; however, there is a common core of occupations with a standardized requirement for certification across all US states. These include: childcare, daycare, nursing staff, lifeguards, EMTs, doctors, and firefighters.;
We will look at a few states to illustrate their specific requirements for CPR certification and whether they overlap with some other states in order to answer whether CPR certification is the same in every state.;
New Jersey
Per the NJ Department of Health, the state requires all EMT candidates to complete CPR- certificated training from providers and instructors that are recognized by the NJ Office of Emergency Medical Services (OEMS). In total, eight providers are accepted, including AHA, ARC, American Safety and Health Institute, and Military Training Network. Other occupations requiring varying degrees of CPR training include:
New York
Per the NY Department of Health, employees at children's camps and bathing facilities recognize CPR certifications from a list of specific providers. Some of these are the American Aquatics and Safety Training, ARC, AHA, Heart and Stroke Foundation of Canada, Emergency Care and Safety Institute and others. Other professions requiring CPR certification include:
Substance Abuse Medical Staff
Ohio
The Ohio State University College of Nursing only accepts students who obtain their BLS or ACLS certification from the American Heart Association.;
Residents of Ohio working for the Department of Safety and Professional Services (DSPS) require first aid and CPR training only through in-person skills assessment, meaning no online certification is accepted.;
Occupations requiring CPR certification include:
Massachusetts
For the State of Massachusetts, we found that the following occupations must hold a valid CPR certificate:
Professional fitness trainers
Food service professionals
Louisiana
The state's laws require that childcare providers and in-home providers have valid CPR certification for infants, children, and adults. In an interesting example of legislation, even volunteer dental hygienists who are retired must have valid CPR certification in order to provide their services.;
CPR and Good Samaritan Laws;
All US states and DC follow the Good Samaritan laws. Individuals who obtain a CPR certification, or are required to have it for their occupation, should know that the Good Samaritan Law offers liability protection.;
In essence, these laws make it exceedingly hard for persons who receive emergency CPR outside a medical facility to sue the "Good Samaritan", when theirs has been an act of kindness for the purpose of saving a human life.;
Even in cases where the person who's suffered a cardiac arrest has a Do Not Resuscitate order, the person providing CPR can't sustain legal charges if they weren't aware of the order.;
These laws, however, can also differ in detail, as some states stipulate that only people with CPR certification can provide it. Other states allow uncertified bystanders to act in a Good Samaritan capacity.
Notably, the Good Samaritan laws do not protect emergency medical workers and volunteers as civilians are in every state.;
The line of protection on the part of Good Samaritan laws ends for individuals who've provided emergency CPR in a negligent or wilfully harmful way.;
Federal Cardiac Arrest Survival Act
Members of Congress Gerry Connolly and Scott Franklin introduced a bipartisan bill expanding the protection for Good Samaritans who are taken to court for intervening in a cardiac arrest victim with CPR and AED.;
The bill has been inspired by the "incomplete, inconsistent, and, in some instances, inadequate protection for considering the acquisition or deployment of AEDs.";
The act encourages bystanders to act when someone has experienced a sudden cardiac arrest, where nine of 10 victims die when not given emergency treatment in out-of-hospital cases.
Widely Accepted CPR Certification Associations
As we've demonstrated in some of the requirements of New York state, New Jersey, and Ohio, the validity of your CPR certification will vary from state to state, depending on the position you are looking to fill. Many states don't recognize online CPR courses as valid for many jobs that are paid out of the state budget. Conversely, many states only recognize specified associations for providing the required CPR level training.;
Associations that are widely accepted include:
American Heart Association
The National Safety Council
American Health and Safety Institute
Other health organizations accredited by ECC and ILCOR
Conversely, a certified training center can issue a course completion card bearing the ARC or the AHA logo. These cards represent an important credential that has a digital verification code. The requirement of companies that are subject to the Occupational Safety and Health Administration (OSHA) regulation is that employees have hands-on training instead of online.;
CPR Recertification or Renewal
Individuals who need to be CPR certified also need to renew their certification every two years. It is generally accepted for professionals who have obtained substantial CPR training to receive their recertification from an online course.;
The alternative to that is taking a hybrid recertification course, meaning having online and in-person classes. Medical professionals, lifeguards, childcare workers, nurses, and all other occupations that require CPR certification should be renewed before their card's validity expires.
Check OSHA Recommendations for CPR Certification in Your Occupation;
The Occupational Safety and Health Administration has different recommendations depending on the specific industry or line of work. Still the general rule is that all businesses should have one or more employees trained and certified in CPR.
The same recommendation adds that employers should provide CPR and First Aid trained employees on staff if the closest emergency treatment clinic is not within a reasonable distance of the workplace. The proximity of emergency care service is determined at no more than 3-4 minutes from the workplace and up to 15 where serious injuries are unlikely to occur.
Final Thoughts
Is CPR Certification the same in every state? Our recommendation is always to check the regulations and requirements for the specific state or employer to ensure your CPR certification is valid.
As we've demonstrated, various occupations have varying degrees of requirements regarding who issues the CPR certification and whether it can be obtained online or in a training facility.;
Accredited organizations that provide CPR courses should list the relevant body that provides their accreditation. Generally, if you want to have a CPR card, even if your job doesn't require it, any accredited facility should provide sufficient training.;