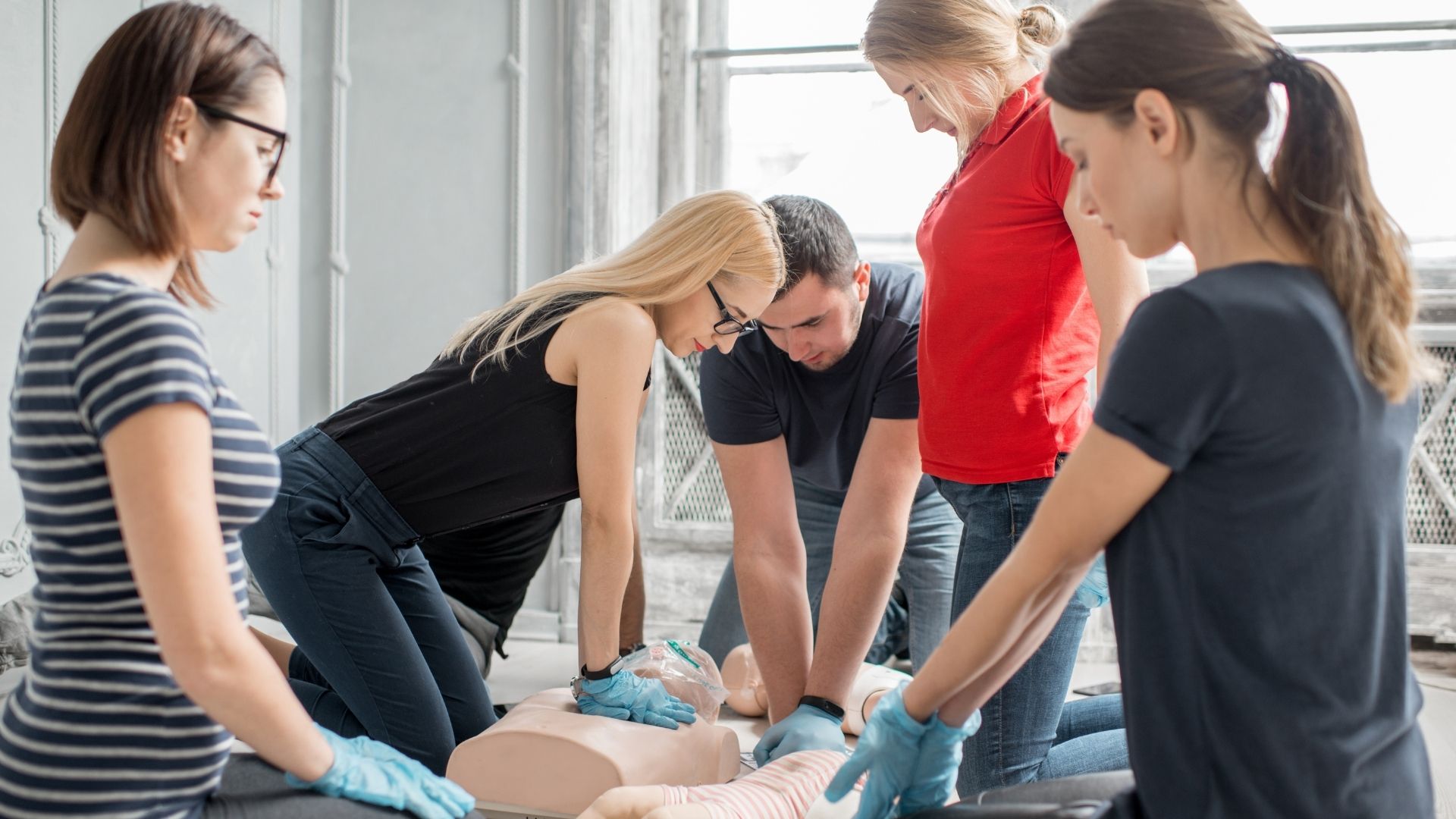 When you're thinking of learning CPR, you might be asking, "What is the average cost of CPR certification Classes in Tacoma?" The state of Washington sees heart disease as the second leading cause of mortality, whereas in the US, around 697,000 people die of heart complications annually.
Tacoma is the third-largest city in Washington, meaning emergencies are likely to happen. Situations like this can make us hopeless, but they do not have to if you are prepared for them. And the best solution for not panicking in emergencies is to have some basic life-saving skills, like CPR.
For instance, when a person has a cardiac arrest, immediate CPR can increase their chances of survival by doubling or tripling them. So, to be prepared to save someone's life, you should find a CPR course near you and get certified. 
However, before enrolling in a CPR class in Tacoma, you should compare prices from reputable providers. To answer the "what is the average cost of CPR certification classes in Tacoma?" question, we will discuss the factors that influence the cost of classes and how to select the best course to meet your goals.
Who Needs CPR Certification Classes in Tacoma and What Is The Average Cost?
It is not obligatory for everyone to know how to perform CPR. However, the fact that CPR training is sometimes optional is no reason not to learn this vital life-saving skill if you wish.
The US Department of Labor and the OSHA have regulations and rules governing CPR training requirements in specific jobs, industries, and situations. Emergency medical service providers in Washington typically require CPR certification training and Basic Life Support at the Healthcare Provider level. BLS skills include performing CPR on infants, kids, and adults, as well as using an AED and bag-valve mask. Some EMTs may also require a First Aid course, depending on the employer. 
Aside from medical professionals and healthcare providers, CPR certification is required for many jobs in Washington. Among these jobs are, but are not limited to:
Childcare providers
School personnel
Construction employees
Pilots
Lifeguards
Flight attendants
Security guards
Adult foster caregivers.
As you can see, only several professions are required to be CPR-certified. However, everyone is welcome to take a CPR class. In fact, the American Red Cross offers over 100 CPR classes near Tacoma, starting from $37 and up. 
Also, the American Red Cross is dedicated to preparing people for responding to emergencies. Their adaptable training method combines an innovative educational model with cutting-edge science in life-saving care.
The CPR classes in Washington from the Red Cross are held by an instructor who is an expert in the field. After the courses, you will know how to perform life-saving techniques and be confident to act when it counts.
The classes are offered in Washington and accessible in-person, online, or through hybrid learning (online + classroom). In addition, you will get a two-year OSHA-compliant certification after completing the in-person skills session.
Factors Influencing the Fees of CPR Courses
In Tacoma, WA, you can find numerous CPR providers where you can take your class. Despite the competition, almost every health organization considers the same criteria when determining course pricing.
Now, let's look at the main factors influencing the cost of CPR certification classes in Tacoma:
Level of Competence
You can get your certification card at many locations across Tacoma. The American Red Cross and other national organizations have previously certified many of the organizations that offer CPR certification courses. 
It is best to find CPR certification in Washington written and approved by AHA-trained US board-certified healthcare professionals and physicians. Be careful because there are many online CPR/AED training courses that the American Heart Association or Red Cross does not approve.
By choosing courses approved by the AHA or Red Cross, you can be assured you'll receive only high-quality CPR certification classes. The certification courses will cover the same topics as Red Cross and AHA-approved classroom courses.
Type of Learning
As mentioned above, the CPR courses can be online, in-person, or hybrid. There is a significant price difference between online and in-person classes. For example, in-person classes at the Red Cross Organization are nearly twice as expensive as online classes.
The limited participant capacity is the primary reason that in-person classes are so expensive. Classes in the classroom combine lecture with hands-on practice. They are an excellent option for students who learn best in a traditional setting.
Online classes are a convenient option for those who want to learn on their own time and at their own pace. However, because they are entirely online, you cannot show skill proficiency to a certified instructor; thus, these classes do not meet OSHA certification requirements.
Finally, hybrid classes are a combination of online and in-person instruction and are probably the best option. And because students will get in-person practice, the blended classes are OSHA-certified.
Levels of CPR
The level of education is the final factor that influences the price of some CPR providers. CPR Level A is the most basic CPR training, making it the most affordable. Level B includes teaching individuals CPR for infants and children, which costs more than level B.
CPR Level C includes two-rescuer CPR skills as well as all aspects of CPR skills for babies, kids, and adults. Therefore, these courses are more extended than level A or B classes.
As a result, when selecting a type, make sure that the specifications align with your goals and objectives.
Average Price of CPR Certification Classes in Tacoma
Classroom classes in Tacoma, provided by the American Red Cross, can range between $77 to $97 for Adult First Aid/CPR/AED. The Adult First Aid/CPR/AED hybrid courses cost $97. The price for hybrid classes for Adult and Pediatric First Aid/CPR/AED is $117. They also offer First Aid CPR/AED Instructor and CPR/AED For Professional Rescuers courses.
Regarding the materials, many CPR certification organizations in Tacoma allow you to buy them online. They include everything, from reference cards to digital certificates. In addition, training centers will provide the learning materials in the form of hard-copy materials, digital books, or a combination of the two. Of course, the prices will vary. For instance, reference cards or digital guidelines cost between $10 and $30.
Depending on the type of CPR course, the handbooks can cost between $15 and $150. The most affordable courses are basic CPR certifications. However, materials for medical professionals are significantly more expensive.
After you have completed the course and passed the exam, you will need to get your certification card. AHA-certified training centers charge a certification card between $7 to $20 on average.
More Useful Information about CPR Certification Classes and How Much They Cost in Tacoma
You must renew your CPR certification every two years. You can get CPR renewal certification online to meet this requirement and remain certified.
However, your employer might ask you to pass a hands-on skills test, for which you will be tested at a testing site. You will be able to complete this part of the certification for a small fee.
Also, there will be tests after completing the courses. The tests will vary depending on the classes you select. For instance, before completing an online course, you can self-test your skill proficiency through an online skills assessment portion. Only in-person and hybrid courses allow participants to demonstrate their abilities to a certified instructor.
Conclusion: What Is The Average Cost of CPR Certification Classes in Tacoma
Tacoma is home to many training facilities that offer high-quality CPR certification classes. Several factors can influence the cost of CPR classes. However, the most basic courses are the cheapest, whereas certification for medical professionals is somewhat more expensive.
So, what is the average cost of CPR certification classes in Tacoma? The price of a certification course can vary, but the average cost is between $30 and $100.
Before you enroll in a class or choose a provider, you should ensure that the certificate is issued by an accredited organization, especially if you need the certification for your job.